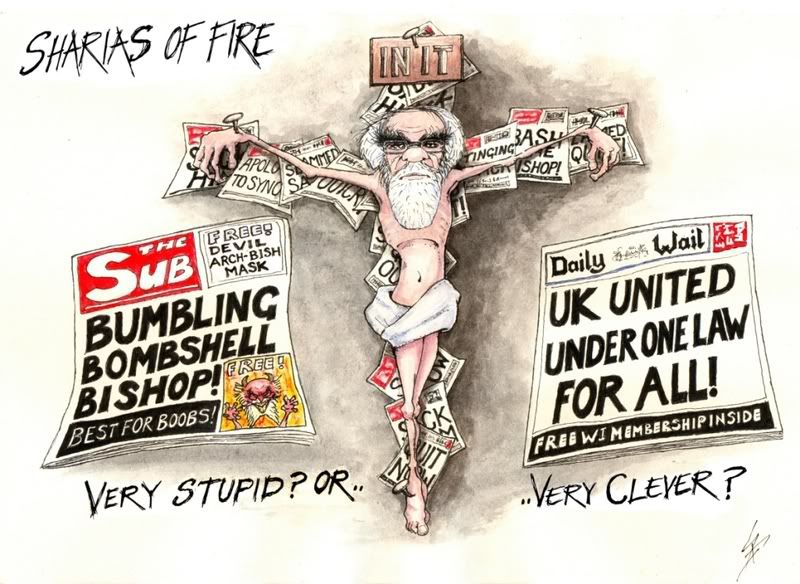 Image today I can't claim credit for, this belongs to Gary Barker, of the blog "Barker Bites Back!".
Gary Barker is the political cartoonist for the BBC Politics Show Website. The link Barker Gallery can be found in my links.
The cartoon above proved to be quite controversial, depicting the Archbishop of Canterbury, Dr Rowan Williams, crucified on a cross of newspapers after his comments on adopting Shariah law in th UK. Offensive, funny, ironic, and thought provoking, everyone seems to have a view on this one.
Gary produces a cartoon a week based on a topical political story. All parties, all politicians, uk and international, no prisoners taken.
If you are into political cartoons, politics, humour, and like to see the powers that be getting a pictorial kicking then check out the links, and if you like them you can even buy them, prints and originals. Unlike photographs, they increase in value, especially if signed by the artist. Good tip for all you ebayers out there.
Todays link is for the Barker Bites Back Blog, Again under links. Link to the bbc politics show barker gallery can be found in links under Barker Gallery.
Oh yeah, my claim to fame, he's my partner. Photographer and a cartoonist went into a pub, sounds like a bad joke doesn't it?
WALLABY WATCH!
Not an wallaby to be found. Bugger.